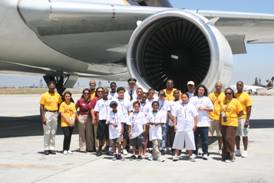 Saturday Aug 23, 2014 8:00am to 4:00pm
Saturdays, August 9, 16, and 23, 2014 from 8 am to 4 pm

The Southern California Chapter of Shades of Blue, in partnership with United Parcel Service (UPS), will be hosting 25 students from the communities in the Ontario area for a 3-day introduction to the exciting career opportunities in the aerospace field.

We will meet at the UPS facility at Ontario International Airport, 3110 E. Jurupa Ave, Ontario, CA 91761. Students will attend classroom lessons on aviation related topics, tour airplanes and maintenance facilities, learn about the package shipping process, and participate in hands-on activities. Students will also get to meet various aerospace professionals and learn about networking and career preparation.

The program is designed to expose the students to career fields that they might never otherwise learn about and to show the students the practical application of the STEM (Science, Technology, Engineering, and Mathematics) subjects they are studying in school.
Ontario International Airport
3110 E. Jurupa Ave.
Ontario, CA 91761, CA 91761